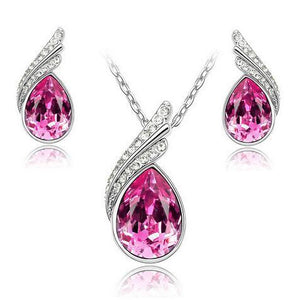 Stunning Breast Cancer Awareness Pink Drop Earrings and Necklace Set
It is truly heartbreaking losing someone you love with Breast Cancer. Find comfort and Honor those who have fought and lost to breast cancer by wearing this beautiful Pink Drop Earrings and Necklace Jewelry Set. Both the Necklace Pendant and Earrings are beautifully crafted with a Pink Teardrop stone represents our brave loved ones who have lost in the fight against breast cancer.
Wear this amazing jewelry set in honor and awareness have gone through this challenge.
Our products were made with the purpose of giving back for Breast Cancer Awareness by donating a portion of our sales to Breast Cancer patients and research Organization/Foundation.
Material: 18k Gold Plated
Style: Necklace
Comes with a silver threaded chain
---
We Also Recommend