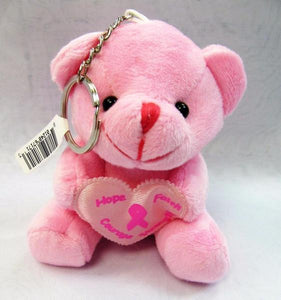 Pink Breast Cancer Awareness Bear Keychain
Sometimes all someone with cancer needs is to be with a loved one who is willing to listen and hold her hand while she cries. Let them feel our presence and support by having this meaningful Bear Keychain as a reminder that we are one with them on this journey and together we will win the battle.
This awesome bear is holding a heart with the inspiring words Hope, Courage, Faith and Strength on it. 
Get one of our Pink Breast Cancer Awareness Bears Keychain in support of finding a cure for breast cancer awareness.