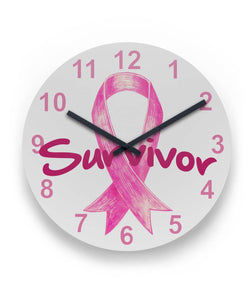 Survivor Pink Ribbon Wall Clock
Survivor Pink Ribbon Wall Clock
When you go through the challenges of fighting breast cancer, you have to be strong and stay positive. So hang this lovely Survivor Pink Ribbon Wall Clock in your home or office as a reminder that Hope and Strength will definitely help you survive this challenging phase in your life.
The Wall Clock is designed with Inspiring Word "Survivor" with the Pink Ribbon which symbolizes support to Breast Cancer Awareness.
Remind yourself that positive attitude can help you survive the Breast Cancer Journey by having this wall clock. You can also give this as a gift to Breast Cancer Survivor to radiate goodness and share awareness.
Our products were made with the purpose of giving back for Breast Cancer Awareness by donating a portion of our sales to Breast Cancer patients and research Organization/Foundation.
Features:
Wall Clock Unframed Gloss Aluminum Face, includes clockworks with 2 hands
Dimension: 11" (Length across the face) x .045" (thickness)

When ordering a Clock from our Decor collection, they will not ship out assembled. We do this to prevent damages during the shipping process.

CLICK HERE to view or share the assembly video