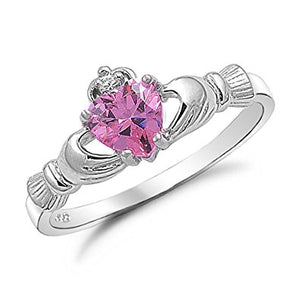 Sterling Silver Pink Claddagh Breast Cancer Ring
Lending a helping hand or showing support to someone who has Breast cancer is very important as it will strengthen their faith and hope for a better tomorrow. And this lovely Pink Claddagh Ring was mindfully designed with two wide open hands which strongly represents Love, Friendship, Loyalty and Support for a loved one who is a Breast Cancer fighter and survivor.
Wear this Ring in support and awareness of Breast Cancer Fighter or Survivor. Or you can give it as a gift to someone and let them feel that your unending love and support.
Claddagh style
925 Sterling Silver 
Various sizes available
---
We Also Recommend